Section 1

What is a USDA Loan?

A USDA loan is a mortgage that offers considerable benefits for those wishing to purchase a home in an eligible rural area. USDA home loans are issued through private lenders and are guaranteed by the United States Department of Agriculture (USDA).

Purpose of the USDA Loan
The USDA loan's purpose is to provide affordable homeownership opportunities to low-to-moderate income households to stimulate economic growth in rural and suburban communities throughout the United States.
These rural development loans are available in approximately 97% of the nation's land mass, which includes over 100 million people*.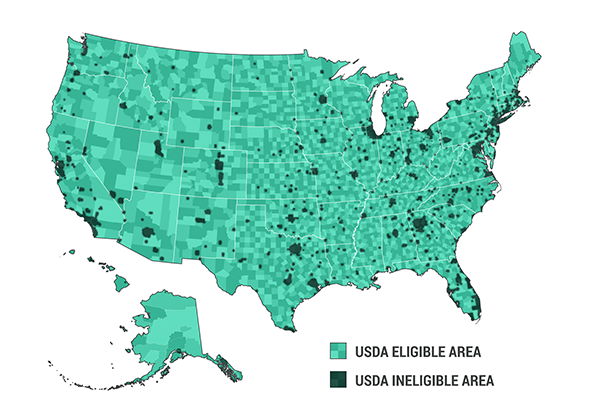 Back to Top
Section 2

Benefits of a USDA Loan

Because of the USDA loan guarantee, lenders are willing to take on more risk and offer eligible homebuyers advantageous rates and terms.

Some of the primary benefits of USDA loans include:
$0 down payment
Competitive interest rates
Low monthly mortgage insurance
Flexible credit requirements
USDA loans open the door to homeownership for many first-time homebuyers who otherwise could not afford a traditional 5-20% down payment. However, the USDA has its own guidelines and requirements, including eligibility requirements for both the homeowner and the property. Lenders will often have their own internal guidelines and requirements in addition to those set by the USDA.
Back to Top
Section 3

USDA Loan Eligibility

To qualify for a USDA loan, borrowers must meet credit and income criteria set forth by the lender and the USDA.

At a minimum, the USDA requires:
U.S. citizenship or permanent residency
Dependable income, typically two consecutive years
The ability and willingness to repay the mortgage – generally no late payments or collections 12 months prior to the application
An acceptable debt ratio, which can vary by lender and other factors
The homebuyer's adjusted annual income cannot exceed 115% of the area median income, depending on family size
The property be located in a qualified rural area
While the USDA does not set a minimum credit score requirement, many USDA lenders require at least a 640 score in order to use the USDA's Guaranteed Underwriting System (GUS). Those with credit scores below 640 may still qualify for a USDA loan, however the file will require manual underwriting.

| | |
| --- | --- |
| FICO Credit Score Categories | Credit Score Range |
| Excellent | 750 and higher |
| Good | 700 - 749 |
| Fair | 650 - 699 |
| Poor | 550 - 649 |
| Bad | 549 and lower |
Back to Top
Section 4

USDA Loan Income Limits

Because USDA loans are meant to assist low-to-moderate income homebuyers, the USDA sets income limits based on the property's location and household size. The base USDA income limits are:
1-4 member household: $91,900
5-8 member household: $121,300
USDA counts the total annual income of every adult member in a household towards the USDA income limit, regardless if they are a part of the loan.
But it's also not as simple as looking at your annual pay. USDA ultimately looks at what it calls adjusted annual income, which takes into account acceptable deductions for things like child care, medical expenses and more.
Back to Top
Section 5

USDA Loan Property Eligibility

USDA loans are only available to homebuyers wishing to purchase in what the USDA considers a rural area, although some suburban areas may be eligible as well.

The USDA defines a qualified "rural" area as any area with a population under 35,000, is rural in character and has a serious lack of mortgage credit for low- and moderate-income families.

Additionally, USDA loans are only available to homebuyers wishing to purchase a single-family home that will be their primary residence. Homes with acreage may be eligible, if the site size is typical for the area and not used principally for income-producing purposes. Income-producing property and vacation homes do not qualify.

Boundary lines for USDA property eligibility can change every year.

» MORE: View detailed property eligibility requirements here, complete with eligibility map.

Back to Top
Section 6

USDA Loan Rates

USDA loans typically offer some of the lowest interest rates on the market.

Interest rates on USDA loans are determined by several contributing factors, however the primary factor is your credit profile, as is the case with all mortgage options. Those with higher credit scores often receive the most competitive rates, although borrowers with less than stellar credit may still qualify for a low rate due to the USDA guarantee.

The USDA does not set interest rates. Lenders are free to set their own, and rate quotes can vary based on a host of factors.

Back to Top
Section 7

USDA Loan Process

Going through the USDA loan process can be different for each homebuyer; however, the typical flow is as follows:
Prequalify with an approved lender
Provide all necessary documents and reach preapproval
Find a USDA-approved home in an eligible "rural" area
Sign a purchase agreement and order a USDA appraisal
Be patient during loan processing and underwriting, then close on your home!
Back to Top
Section 8

USDA Loan Refinancing

The USDA offers three refinancing options for borrowers looking to lower their rate:
USDA Streamline Refinance: Homeowners without any late payments for the previous 12 months may be able to refinance without a new appraisal. Cash cannot be taken out of a streamline refinance; however, it is possible to roll the guarantee fee into the final loan amount.
USDA Streamline-Assist Refinance: Allows borrowers to refinance without a new appraisal, credit check or debt-to-income calculation. Homeowners with little to no equity in their home may also apply.
Non-Streamlined Refinance: Nearly identical to the streamline-assist option, however borrowers are required to get a new appraisal. Borrowers typically use this option to avoid the $50 payment reduction requirement for the streamline-assist program.
Refinancing a USDA loan can help borrowers lower their monthly mortgage payment by taking advantage of the market's current interest rates.
Refinancing may result in higher finance charges over the life of the loan.

Back to Top
Section 9

Guaranteed vs. Direct

The USDA offers two different loan options to help rural families achieve the dream of homeownership: the USDA Guaranteed Loan and the USDA Direct Loan.

The primary difference in the two programs is who funds the loan. With the guaranteed loan, a USDA-approved lender issues the loan. However, with the direct loan, the USDA issues the loan and provides payment assistance in the form of a subsidy.

While the purpose of both loan programs is to boost homeownership in rural areas, the two programs have significant differences and are meant for two very different financial situations.

For example, with the USDA direct loan, the homebuyer must:
Not have access to safe or sanitary housing
Have an income classification as low or very low
Be unable to obtain financing anywhere else
Not be suspended or banned from participating in federal programs
» MORE: See more differences between the USDA guaranteed and direct loans here.
The USDA Guaranteed Home loan has assisted thousands of homeowners en route to their dream home and continues to be one of the most advantageous programs on the market today. Learn about the many advantages of the USDA loan in our next section.
Back to Top
Section 10

How to Apply for a USDA Loan

The first step in applying for a USDA loan is finding a USDA lender. USDAloans.com specializes in connecting you with USDA-approved home loan specialists that are licensed in your state.

Get paired with a USDA lender here.

Once you are working with a lender, expect a conversation that typically includes detailing the home location, desired loan amount, gross monthly income, assets and monthly debts. Lenders will also ask to conduct a hard credit inquiry to get a look at your mortgage credit scores. Credit score minimums can vary by lender and other factors, but a 640 FICO score is a common one for USDA lending.


If your lender determines you may be eligible for a USDA loan, the next step is to provide documentation outlined in the conversation. This includes documents like:

Government-issued ID
W-2 statements
Recent pay stubs
Bank statements
Keep in contact with your loan officer throughout the USDA loan process, as they may need additional documentation along the way.
Back to Top